The Immovable Object vs the Irresistible Force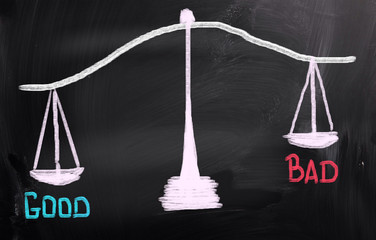 To my knowledge I've never posted anything involving the political realm. But when I came across the following paragraph from R.C. Sproul's book, Reason to Believe, I couldn't help myself, I had to pen this post.
Page 119: "If we have two ultimate opposing forces which are equal in power and are mutually exclusive and contradictory, how can we have anything? It is the rational problem of the irresistible force and the immovable object. What happens if we posit the theory of the meeting of an absolutely immovable object with an absolutely irresistible force? If the immovable object moves then it is not immovable. If it does not move, the irresistible force is resistible! It is rationally absurd to have two absolute, mutually exclusive entities. Even if it were hypothetically possible (which it is not) it could not account for real manifestations of good or evil. We would have a universe [a nation?] paralyzed by ultimate moral inertia."
Dr. Sproul, in his 1978 book, was writing about spiritual warfare. Obviously, he wasn't writing about our nation's current condition. But after reading what he'd written, I couldn't resist making the direct correlation to the moral inertia prevalent today in our country. Are we not suffering from this very dis-ease? Do we not have two entities exhibiting utter disdain for the other? We citizens are witnessing one seemingly Immovable Object and one seemingly Irresistible Force clashing with each other to the detriment of their very own constituents? Us.
Thank goodness our founding fathers gave us a third entity to deal with laws and such nonsense as this. They didn't leave us with two absolute, mutually exclusive entities. The Supreme Court is the de facto deciding vote. Established were three (not two) equal entities for the benefit of the people. With the Supreme Court we are able to avoid the eventual breakdown of these two equal but powerful forces. Without this third entity, we would sink into oblivion.
And, it's looking like the nine justices will be ruling on some of the very things that separate the IO and the IF—with many more cases to come in the future. We should be prepared for it all. We'll have to be mentally tough. Willing to hear both sides of the arguments, tune in to all sorts of media, then wait patiently for the highest court in the land to settle the difference. It's going to happen. It has to happen.
But there's a what if? What if the constituents of the IO or the constituents of the IF resist, fail to adhere to, ignore (or however you want to express it) the ruling of the Supreme Court? What'll happen to our nation, this nation of laws? Might we find ourselves in utter turmoil, with no rule of law, a breakdown leading to rioting in the streets? We must all be willing to lie down beside the still waters, to assess our own soul, to set a new path. We must heal the feelings between us. For the good of all.
What do you think? Who would you say is the Immovable Object in our current country's situation, the 'right' or the 'left'? Which group is the Irresistible Force? Please explain your reasoning.
What's your opinion? Will you go along with the Supreme Court's decisions no matter how they rule? Or will you become an anarchist, an agitator, a subversive? They're all the same.
Thank you for listening. And for your thoughts.
Let us seek the greater good,

More food for thought: Forgiving and forgetting are two different actions. Right now, neither side is willing to forgive or forget. But, we all must be willing to at least forgive. It is better to do both, but practically difficult for humans to do so.