We forgot to show you this . . .
Look what made the cover of Publisher's Weekly.
The Rector!
And, we were excited to read what PW had to say about The Rector:
"Thompson's engaging, high-energy Christian murder mystery is narrated by Martha McRae, a woman living in a small Mississippi town who seeks to solve the mystery of the sudden death of pastor David Baddour. Throughout the novel, readers are introduced to the cast of characters who inhabit the small Delta town in the 1950s. The book gleefully mixes all the elements of a small-town murder mystery—gossip, foul play, backstabbing—and, as more is revealed about Pastor Baddour and the other townspeople, more mysteries, hypocrisies, and dangers add to the intrigue. Thompson's tale looks intimately at what it means to function in a community—how a population can reveal and obscure the truth." ~~ Publisher's Weekly.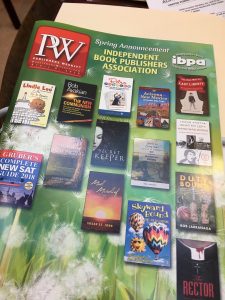 Hey, if you'd like to keep up with Michael's involvement in co-producing the movie in development based on The Rector, just go to https://michaelthompsonauthor.com and sign up for his monthly newsletter, "Stay Up With Mystery." It's a brief, monthly update on behind the scenes news of the process to making a movie. All we ask if for your email and first name, nothing more. We don't sell, lend, or do anything with your email, except send the monthly email. Which we hope you'll enjoy very much.