Mississippi Humble?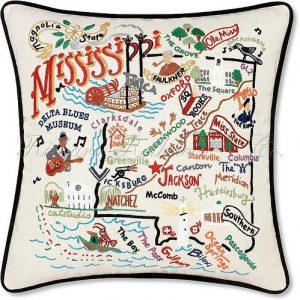 My mother had a needlepointed pillow with this saying: "It's hard to be humble when you're from Mississippi."
While these words might sound like bragging, or arrogance to some people, they were never meant to convey that sentiment. Not at all. 
The saying is more about a state of solitary pride than a state of boastfulness. Mississippians don't boast. Most just live their lives inherently knowing there's something special about Mississippi, and its people.
Mississippi is principally made up of five distinct parts. There's the coast; there's the pine country above the coast; there's Jackson/central Mississippi; the hills in the NE part of the state; and the Delta to the west — to me, the most mystical, rich-in-stories region of the state.*
David Cohn explained its place in the state like this, "The Mississippi Delta begins in the lobby of the Peabody Hotel in Memphis and ends on Catfish Row in Vicksburg." 
The lobby of the Peabody exhibits its mystic Southern culture with ducks that promenade from their roof-top mansion to the lobby fountain, all of them lined up, Mallards and hens, duck-walking on a red carpet to the lobby's fountain.
And, for so many in the Delta, it's all about the Mississippi River duck fly-way. The ducks fly in from the North and we shoot them. There are so many. And delicious. Only the Peabody ducks are safe from the 12-gauge.
In between Vicksburg and Memphis lies the rich dirt of the Mississippi Delta, millenniums of soil deposits sent down river from the North. There's something about the land that makes plants grow almost as lush as the stories told at Delta cocktail parties. And that's the thing. So many Delta natives grew up around parents caressing a tumbler of bourbon, and more than willing to tell a tale slow enough for all to hear and LOL.
Honestly, it's also easy to be humble when you're from Mississippi. She's had her fair share of embarrassments. But, all-in-all, her true lovers are soulful and often very creative. Even those who've left her for New York, or Timbuktu. 
I believe the creativity comes from the confluence of deep religious upbringings with a built-in desire to be rebellious in one way or another. Yet, Mississippians, from all regions of the state, are imbued with an obligation of genuine hospitality.
Yes, I live in Memphis; but, I'll always say, "It's hard to be humble when you're from Mississippi." 
*My storytelling takes place in the heart of the Delta, in Solo, Mississippi.