Clouds Above: Plausible Science Fiction
Michael's latest novel "Clouds Above" is a plausible story about a global water shortage filled with intrigue, secret experiments, security secrets, and hidden dangers affecting the world's water supply.
As the world faces a water shortage like no other in history, will the protagonist Dr. Grayson Fields' science skills and determination make it possible for her to bring rain to a parched world?
Clouds Above: Plausible Science Fiction"
Only $4.99 on Amazon Kindle
Also available in paperback and hardcover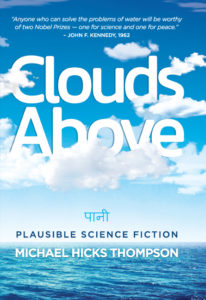 Thompson brings to life a plausible world that readers will not only be engrossed in the outcome of an elaborate setting but will find the science of climate manipulation thoroughly intriguing—even vital to our survival.
~ D. Donovan, Senior Reviewer, Midwest Book Review.
Pre-Order "Clouds Above" for Kindle and get an intriguingly realistic tale of greedy billionaires, state secrets, a global drought and a protagonist determined to save the world.
---
---
"While this may be science fiction, it could actually happen. That's just one of the things that makes it intriguing. Thompson weaves believable characters, both good and greedy, along with dangers throughout the story. Plenty of intrigue and new-found knowledge about our water future kept me in the story the entire way. This is a new genre for Thompson and once again he knocks it out of the park."
~ Susan Reichert, former Editor-in-Chief, Southern Writers Magazine, current editor of Suite T, and author of Storms in Life and other books.